HANDICAPPING BEST SUPPORTING ACTRESS
For reference, click
here
.
ANNE HATHAWAY, LES MISERABLES - B, E, F
Hathaway's character is dying of consumption, which is a plus. But she steps out of the narrative for a long time after the first act, which is a minus. But there's another plus, that being Hathaway as someone the Academy adores, enough that she was able to deflect most of the criticism from her hosting gig. Also, Warner Bros. has a well-meaning Best Actress campaign in place for her in "The Dark Knight Rises," which won't hurt.
AMY ADAMS, THE MASTER - C, E, G, H
Again, the usual Oscar buttons are being pressed her, but in an unusual way. She has an off-putting nude scene, and another troubling sexual moment soon afterwards. Her relationship with Dodd is purposely unclear, leading some to speculate she's playing his daughter. And she may or may not be a villain in this film, but Jesus Christ is she terrifying.
SALLY FIELD, LINCOLN - A, E
Field won thirty years ago, and most seem to forget she's actually a two-time winner. Most would also assume that was some sort of typo, as Field, a legendary ham, seems to have conned her way into being credited as Acting Royalty. No matter — as long as she's not awful (not a sure bet), she'll be riding the "Lincoln" nomination wave.
HELEN HUNT, THE SURROGATE - A, G
Bumping her to supporting reads like category fraud, but it also calls attention as to how stupid it is to structure and divide acting performances as if they were dinner plates. So whatever — Hunt makes the "brave" move of being nude a whole bunch in this film, which is compounded by her being based on a real person, even if it's someone for whom the voting bloc would be unfamiliar.
ANNETTE BENING, IMOGENE - B, F
That fifth spot seems like a tough one in this category, though Bening quite literally is Movie Royalty, having been married to Warren Beatty for years. Here, she gets to booze it up and ham her way through this film, which just might be enough to get that nod.
MAGGIE SMITH, BEST EXOTIC MARIGOLD HOTEL - F
The great Dame has yet to win, but she's been so prolific, even in her older years, that voters are very likely to bow. Now, will they remember this film, which was a breakout hit in the spring? Hard to tell.
JACKI WEAVER, THE SILVER LININGS PLAYBOOK - E
Weaver has about twenty lines in this film, and half of them are incidental filler. But if people like the picture, she could grab a nomination simply for reacting to the mental instability of Bradley Cooper, Jennifer Lawrence and Robert DeNiro. Nice work if you can get it.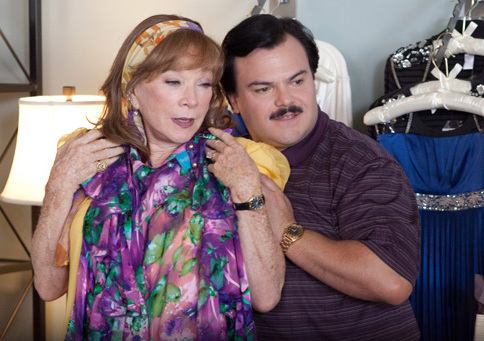 SHIRLEY MCCLAINE, BERNIE - A, F
Roadside Attractions is going to campaign for her, as they should. But she's certainly overshadowed by the career-best work from Jack Black (seriously!) and the fact that her character is mostly absent from the second half of the film. Given that this is such a small picture, those odds might be insurmountable.
ALICIA VIKANDER, ANNA KARENINA - D
"Who is she?" will read the narrative. And she's good, but there's not much to her character, and not a lot of love for this movie. Perhaps she should have played her character with a hook for a hand.
KERRY WASHINGTON, DJANGO UNCHAINED - B, E
If the picture is a huge favorite amongst the Academy, they'll reach and pick on her. But all signs say she's not going to have a role big enough for the final five.